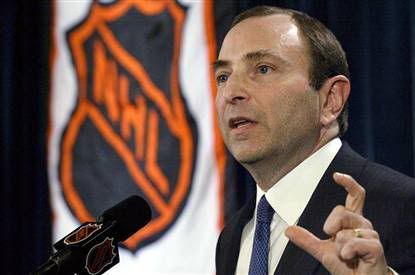 It's about T minus 10 seconds until someone calls conspiracy on NHL commissioner Gary Bettman and NBC in the wake of the league's latest U.S. television travesty.

Who thinks this debacle where the NHL cut away from the Sabres-Senators overtime on Saturday for its Triple Crown horse racing coverage more than a hour before the race actually started might have been the residue of (unintelligent) design? Follow the U.S. TV money the NHL is chasing.

Is it a shock that during a playoff spring where there's been a running debate over changing post-season overtime to better suit the needs of American TV, that one of the NHL's TV partners would do this? It wasn't like there a major American TV market that took a hit here, since people can get the CBC in Buffalo, which is also something like the 49th-largest TV market in the States. (According to Mirtle's post, the NBC affiliate in Buffalo stayed with the game.)

It's hard to imagine the NHL bigwigs did not know NBC might do this, in light of the money the Peacock peebrains paid for the Preakness Stakes. Now the league can turn around and say, "Look, if we want our game to have a place on U.S. television, we need to ensure that we reduce the likelihood a game taking multiple overtimes." (One irony is that Daniel Alfredsson wrapped up the series for Ottawa after about 10 minutes of overtime -- with still more than hour of actual time to chew over a horse race that takes about two minutes.)

No one should put that past Bettman (pictured) and the NHL. After all, they spent lord knows how much energy trying to convince people nothing is worse than a tie game so they could add the shootout, which got old faster than the gags at a celebrity roast. It's not unbelievable that the suits would accept these terms from NBC -- that they could get bumped for a more high-dollar sports property -- and hatch a plan to turn it to their advantage.

In the here and now, it's T.S. for U.S.-based fans, such as an outraged reader of The Universal Cynic who said NBC didn't even shuffle the hockey coverage over to "CNBC, or one of their several other channels that are showing BowFlex ads." In the long run, it's easy to see the NHL using this as ammunition in their (wrongheaded) argument to mess with playoff overtime.

(UPDATE:: Chris Zelkovich notes the league has been strangely silent.)

Bonus irony:

Last night, with no hockey game to show since Buffalo-Ottawa was played in the afternoon by NBC's edict, CBC aired the Canada Russia '72 mini-series where Paul Henderson, Phil Esposito and the boys had to score to win the decisive Game 8 in Moscow. They had to score to win Game 8 outright since one of the earlier games had been a tie. That tie actually helped create the drama.)
Barry Melrose Rocks, Hockey's Ladies of Greatness and Deadspin have good posts on this NHL television debacle. Here's the the mainpage.