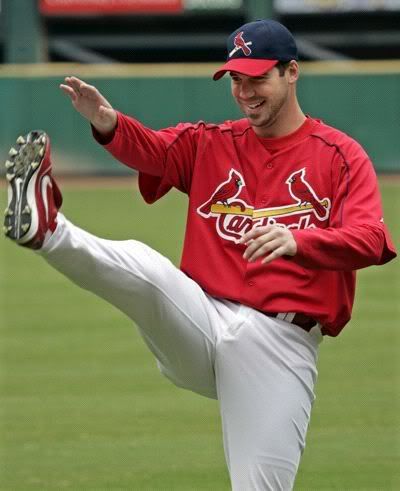 What's happening? How are the 83-win St. Louis Cardinals now halfway to the franchise's first World Series title since 1982?
Last night at least, it was a perfect storm: A control pitcher who was on his game while facing an undisciplined bunch of Detroit Tigers hitters.
Cardinals ace
Chris Carpenter
, as
Jayson Stark
noted in his ESPN.com column, never faced a three-ball count all night in chucking eight scoreless innings in St. Louis'
5-0 win
over the Tigers in Game 3 of the World Series.
He threw 82 pitches in eight innings, which should normally only happen against a last-place team, in the dogs days of August, on getaway day. The first six hitters in the Tigers lineup were 0-for-20.
Sean Casey
, who faced Carpenter plenty when he played in the NL Central for the Cincinnati Reds, had two of Detroit's three hits.
It's not just the Tigers having a "slump" at the wrong time. Their free-swinging ways are catching up with them, although they do have three good pitchers throwing in the next three games, so they may still pull out the Series.
It's been said
ad nauseam
that the Tigers defied the odds in reaching the World Series, but the one area where it's really true lies in their lack of plate discipline. You may not read that in the paper today, or hear it talked about on sports radio or on the TV panel shows, since it's not terribly sexy, but it's fact.
In the regular season, the Tigers drew the second-fewest walks in the American League (430) and struck out more times (1,133) than every other team except Cleveland. They were 13th in a 14-team league in
both
bases on balls and in not striking out.
Their hitters fanned 2.63 times for every time they worked a walk. That may mean about as much to you as the price of grain, but for
The Geek
, this is brain candy.
Players who master the strike zone -- that comes from things such as minor-league instruction, video analysis, working with the hitting coach and experience -- are more likely to pick out a good pitch to hit each time at bat. It's as true for contact hitters as it for the power hitters who strike out 150 times per season. It's not much talked about, but in the playoffs, when there's so much emphasis on each pitch and each at-bat, it's critical that you have hitters who don't make easy outs.
Here's a list that should start to point the way to hat I'm getting at here. I've calculated (hat tip to
Baseball-Reference.com
) the strikeout-to-walk ratio for the hitters on each World Series team dating back to 2000. The team's league rank in walks (BB) and avoiding strikeouts (SO) are in brackets. Obviously, the lower the ratio, the more disciplined the team's hitters were.
PLATE DISCIPLINE AMONG PENNANT WINNERS, 2000- (World Series winners in bold)
'03 Yankees: 1.53 SO-to-BB (1st in walks, 10th in not striking out)
'00 Mets: 1.54 (2, 7)
'02 Giants: 1.56 (3, 3)
'00 Yankees: 1.60 (4, 6)
'06 Cardinals: 1.74 (9, 2)
'02 Angels: 1.74 (11, 1)
'01 D-Backs: 1.79 (3, 3)
'04 Red Sox: 1.80 (2, 14)'03 Marlins 1.90 (13, 3)

'04 Cardinals: 1.98 (8, 9)
'01 Yankees: 1.99 (7, 8)
'05 Astros: 2.16 (13, 6)
'05 White Sox: 2.30 (11, 9)

'06 Tigers: 2.63 (13, 13)
Now, what the hell did that prove? The top three teams on the list each
lost
in the World Series. The '05 White Sox, the only recent pennant winner whose apparent lack of plate discipline rivals this year's Tigers,
swept
the Series four games straight!
Check the numbers in brackets: Every other World Series winner this decade was very good at either drawing walks or at not striking out. Each was at least fourth in their league in either of those areas.
That suggests their hitters were generally tough outs, who typically saw a lot of pitches per at-bat, and made pitchers work deep into counts. They didn't make quick outs the way the Tigers do at times.
It should have been apparent earlier. However, amid the media focus on Detroit's dominance of the league playoffs and the Cardinals' poor regular-season record, St. Louis' far superior plate discipline was downplayed.
Just how superior is it? Looking back at the previous six World Series, the difference in SO-to-BB ratio between the opposing teams ranged from .06 to .20 (that's without accounting for National League not using the DH).
The Cardinals' advantage over the Tigers is
.89
. That's practically off the charts by comparison, especially when you consider it's the Tigers who come from a league where pitchers don't bat regularly.
I can't believe I didn't realize this sooner. Honestly, I feel like a total schmuck. Now, a correlation between hitters' SO-to-BB ratio and World Series success doesn't appear clear based on just six seasons' worth of World Series matchups.
It can be argued, however, that the Cardinals have a huge, hidden advantage that has gone almost unnoticed among fans and media.
It kind of became obvious last night. While Carpenter didn't issue a single free pass, four of the five Cardinals runs were scored by players who reached base via a walk. The wild pitch
Zach Miner
unworked that scored the final run? That was set up by
Preston Wilson
, who once came oh-so-close to setting an all-time record for strikeouts in a season, working a walk when the Tigers were hoping to get him to hit into an inning-ending double play, so they could keep the score at 4-0 and avoid facing
Albert Pujols
with runners on base.
Meantime, Carpenter was breezing through the Tigers lineup like a multiple-choice test in some bird course, averaging just 3.15 pitches per batter.
Like I said, a perfect storm. Granted, the Tigers may yet win the World Series, but hopefully now we all understand better why it was silly to frame this as a mismatch just based on the win totals and two rounds of playoffs.
OTHER BASEBALL NOTES
Last word on Carpenter: Last night he seemed, as I said of his former Blue Jays teammate Roy Halladay in an August essay, part of what Bill James described as the "Jim Bunning Family" of pitchers. These are generally big country hardball types whom as James wrote, "...just have the whole package -- a good fastball backed up with a curve, a slider, a change and pinpoint control ... you see them on a good day and you think, 'I don't understand how this bastard ever loses.' "
The Toronto Star's Chris Young has been running a "This Day In World Series" history feature all week. No need to remind Bill Buckner what happened 20 years ago today, Oct. 25, 1986.
Rogers Sportsnet's Scott Carson says word has it Alex Rodriguez is headed to the Chicago Cubs, where would be reunited with his first major-league manager, Lou Piniella. As noted when it was thought Piniella might be headed to the Yankees, Sweet Lou "has a proven track record for rubbing Vaseline all over Alex Rodriguez's heinie and telling him that it's special and different from everyone else's (uh, figuratively speaking)."
Back with more later. Send your thoughts to neatesager@yahoo.ca.